Professor Marcus Goncalves enjoys a multi-faceted professional career.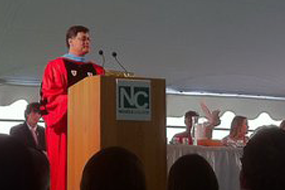 He is an entrepreneur, award- winning educator, best-selling author, technologist, researcher, business speaker, leadership coach and an international management consultant for several Fortune 500 companies. Moreover, he is an Associate Professor of Management and Chair of the International Business program at Nichols College. Additionally, for the past 12 years, Marcus has been an adjunct Professor at both Boston University and at Brandeis University. He teaches both undergraduate and graduate students in the areas of knowledge, project, operations, change, and risk management. His research interests and teaching focus ostensibly on international business and emerging markets. Marcus is actively involved with international education programs, often lecturing in China, Brazil, Philippines, United Kingdom, and Europe. In 2007, he won the Professor of the Year award at Boston University Global.
Born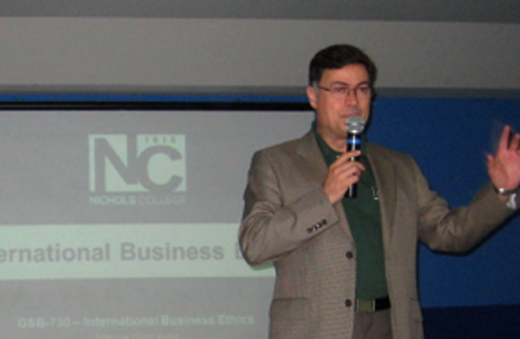 in Brazil, Marcus holds a master's degree in Computer Information Systems from Southwest University and a doctoral degree from Boston University's School of Education with a Ed.D degree in Educational Leadership, Administration, Training, and Policy. Dr. Goncalves is a trilingual speaker (English, Spanish and Portuguese) with research interests regarding the rise of the BRIC (Brazil, Russia, India, and China) countries and the impact of informal economies on global markets. He is an expert in the disciplines of international business, advanced economies, and in particular emerging markets, having published several articles, papers and books on this topic.
Professor Goncalves is a trilingual speaker (English, Spanish, and Portuguese). He has taught and/or delivered speeches and lectures in several academic institutions globally including University of Kent (United Kingdom), University of Buenos Aires (Argentina), Salesian College and Faculdade Estacio de Sa (Brazil), Saint Joseph University (Macao, China), Boston University and Brandeis University (United States). Marcus is an author of more than 40 books, many having been translated into multiple languages including Chinese, German, Japanese, Portuguese, Romanian, Russian and Spanish.
Marcus is an entrepreneur par excellence, turning knowledge into action at every opportunity. In 1988, he founded MGCG, a global management consulting firm, whereby he is President and Senior Partner. Formerly, he held the appointment of Chief Knowledge Officer and subsequently Chief Technology Officer at Virtual Access Networks (1999-2002), where he lead, developed and co-patented the concept of a dynamic transcoding proxy, or an internet "cloud," awarded Best Enterprise Product at Comdex in the fall of 2001; this lead directly to Symantec acquiring the company six months later. At that time, he was CEO of iCloud (2003), which was acquired by GenExpo a year later, and the acting COO of Parkingaccess.com (2002).
Dr. Goncalves' partial list of consulting clients includes but is not limited to several global multinationals such as WeEnergies, Pennsylvania Power Lines (PPL), TXU, Covanta Energies of Philippines, Pearl Energies of Thailand, International Institute of Research of Dubai (UAE), Mitsubishi, Microsoft, Intel, the US Navy, Department of Defense, Titan Corp., Siemens, British Petroleum and Motorola.
Marcus is an avid dirt biker. Oftentimes, he can be found in the mountains, valleys,
and forests of Massachusetts, dirt biking with close friends and some of his Nichols students.
As a devoted Christian, Marcus is an active member of the Boston Church of Christ. He is a true believer of John 8:31-32 - 31To the Jews who had believed him, Jesus said, "If you hold to my teaching, you are really my disciples. 32 Then you will know the truth, and the truth will set you free." For more information about why he is a Christian check here
For a full copy of Dr. Marcus Goncalves CV, click Marcus Goncalves CV

For more information about his academic work, please click here http://nichols.academia.edu/MarcusGoncalves/About